Please Join Us for the 41st Annual Red Mass at the Cathedral of Our Lady of the Angels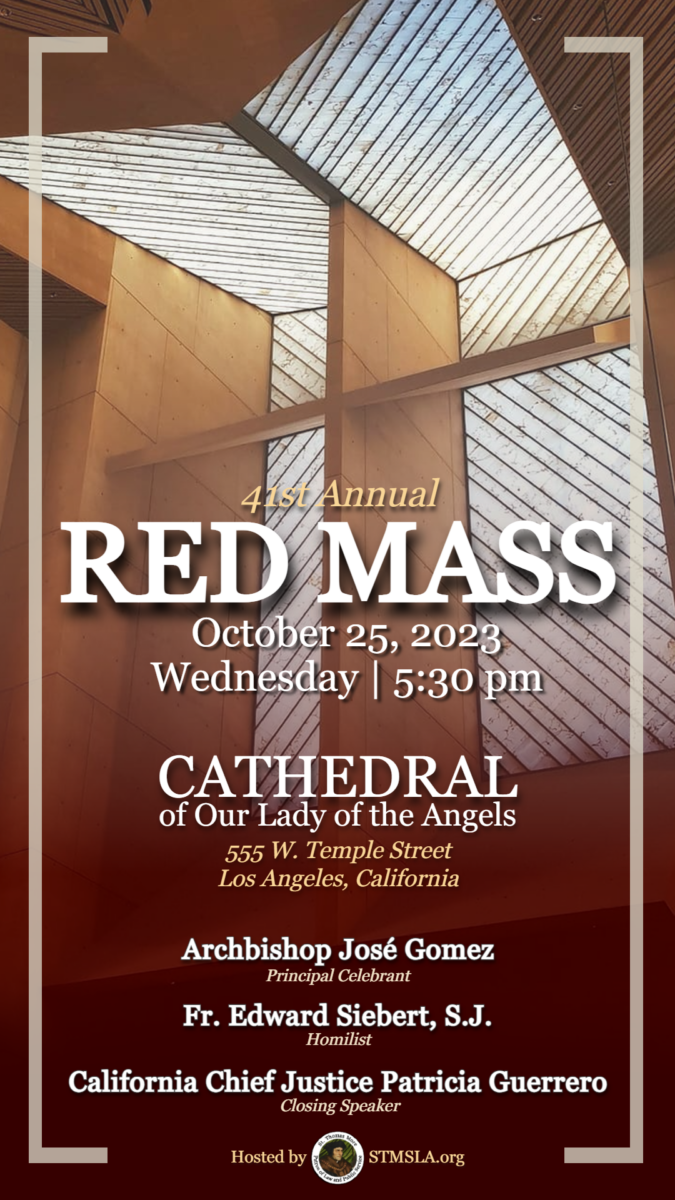 First Celebrated in Paris in 1245, the Red Mass is an annual tradition at the opening of the Judicial Year, in line with that of the U.S. Supreme Court each October. Judges and lawyers attend, joined by public officials and law faculty members. The Red Mass received its name from the celebrant's red vestments, and the Lord High Justices' robes of brilliant scarlet. In Los Angeles, this annual tradition is sponsored by The St. Thomas More Society of Los Angeles, a non-profit association of Catholic legal professionals. In our community, the Red Mass is offered in prayer for judges, lawyers, legislators, and legal professionals of all faiths and traditions.
The Mass is followed by a hosted reception with members of the clergy, bench and bar. We hope you will be able to attend our 41st celebration this coming October 25th at the Cathedral of Our Lady of the Angels in downtown Los Angeles. We request that guests who are interested in attending please R.S.V.P. to help us prepare an appropriate amount of food and beverages for the reception.
41st Annual Red Mass 2023
Most Reverend José H. Gomez
Archbishop of Los Angeles
Principal Celebrant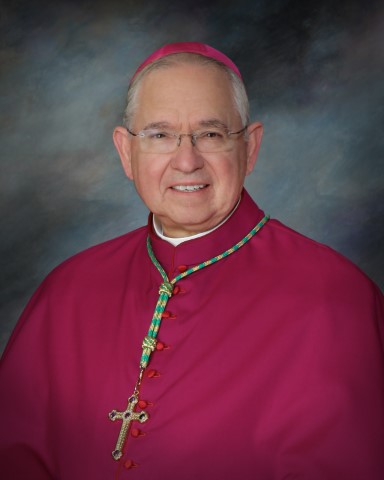 ---
Fr. Edward Siebert, S.J.
Homilist
Meet Fr. Edward Siebert, S.J. – He will be our Homilist at our Red Mass celebration on Wednesday, October 25th, 2023 at Cathedral of Our Lady of the Angels. Fr. Edward (Eddie) Siebert, S.J. is the Rector of the Jesuit Community at Loyola Marymount University in Los Angeles. He is also the Founder and President of Loyola Productions, Inc. (LPI). Siebert received an MFA in Film Production from Loyola Marymount University's School of Film and Television, and he also holds master's degrees from the University of San Francisco and the Jesuit School of Theology at Berkeley. He is a member of the Producers Guild of America (PGA), the International Documentary Association (IDA), Catholics in Media Associates (CIMA), and is a delegate for the World Catholic Association for Communication (SIGNIS North America). He secured the life rights of renowned Vatican exorcist Fr. Gabriele Amorth and executive produced, along with Sony Screen Gems, the 2023 blockbuster feature film "The Pope's Exorcist," with Russell Crowe in the starring role.
---
Chief Justice Patricia Guerrero
Closing Speaker

Chief Justice Guerrero joined the California Supreme Court as an associate justice in March 2022 and was sworn in as California's 29th Chief Justice on January 2, 2023. Prior to being elevated to the Supreme Court, Guerrero was an associate justice at the Fourth District Court of Appeal, Division One since December 2017, and in San Diego Superior Court from 2013 to 2017, where she served as Supervising Judge of the Family Law Division in 2017. Before her appointment to the bench, Guerrero worked as an associate at Latham & Watkins LLP starting in 1997 and was elevated to partner in 2006. She served as an assistant U.S. attorney at the U.S. Attorney's Office, Southern District of California from 2002 to 2003. A native of the Imperial Valley raised by immigrant parents from Mexico, Chief Justice Guerrero graduated as co-valedictorian in high school and attended University of California, Berkeley. She earned a Juris Doctor degree from Stanford Law School where she received an award for excellence in legal writing.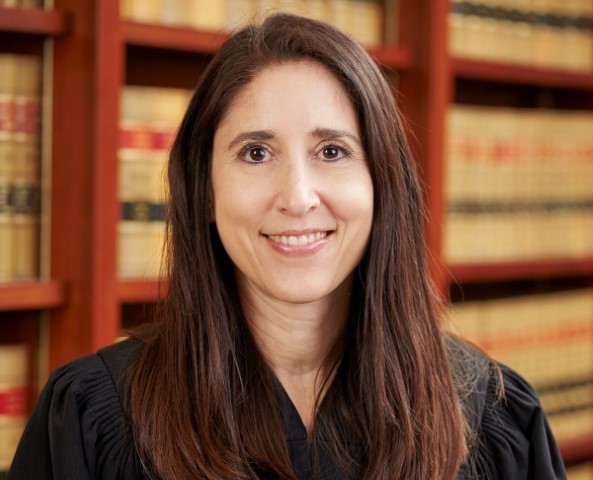 ---
Recap the 40th Red Mass from October 26, 2022